Distance may separate us from our loved ones, but it doesn't have to diminish the love and affection we share. In today's fast-paced world, showing our friends and family how much they mean to us is crucial, even when they're hundreds of miles away. So, if you're looking for unique and thoughtful gifts for long-distance friends and family, you've come to the right place! We've consulted creative and thoughtful gift pros, and here's our list.
Build Connection Beyond Borders with Gifts for Long-Distance Friends and Family
Despite all the technological advancements nowadays, staying in touch after a long distance move can be difficult. We slowly find less and less time to maintain contact with each other as we all get caught up in our lives. However, this doesn't have to be the case.
While we may be miles apart and might not hear from each other as often as we would like, our hearts are still connected, and thoughtful gifts are the perfect way to keep those connections strong. So here are nine thoughtful gift ideas to surprise a loved one miles away!
#1 Customized Photo Albums or Scrapbooks
Create a heartwarming photo album or scrapbook filled with memories of your times together. This gift will not only remind your loved ones of the happy moments you've shared but also show them how much they mean to you. You can add notes, quotes, and mementos to make it extra special.
Go the extra mile by incorporating unique designs, high-quality paper, and other embellishments that give a luxurious feel to the album. If your friend or family member just moved, this could be a perfect housewarming gift that will remind them of you and bring a smile to their face every time.
#2 Monogrammed Items
There's no better way to show your loved one how much you care about them and miss them than by gifting them a lovely personalized gift. The best part is that you don't have to go overboard and spend too much to create a lasting impression. Simply add a personal touch to everyday items such as coffee mugs, towels, blankets, or stationery with their initials or a witty sign.
Monogrammed gifts are practical and stylish, making them a thoughtful choice for friends and family. Consider selecting high-quality materials and craftsmanship to ensure the gift lasts for years to come. There are endless options for monogrammed gifts, from elegant leather goods to chic home decor.
#3 Custom Maps or Coordinates Jewelry
Celebrate your connection despite the distance with a customized map or coordinate jewelry. You can choose a pendant, bracelet, or pair of cufflinks featuring the location of your loved one or the place where you first met. This unique gift will always remind them of your bond. Look for jewelry made from high-quality materials like sterling silver or gold, and consider adding a personalized message or date to make it even more special.
#4 One-of-a-kind Gift Basket
Gift baskets are a versatile and delightful option for long-distance friends and family, offering an assortment of treats and treasures tailored to their preferences. A well-thought-out gift basket truly says, "I'm thinking of you." The beauty of gift baskets lies in their customizability, allowing you to create a thoughtful, personalized present. With countless themes and combinations, a carefully curated gift basket is guaranteed to bring joy and warmth to your long-distance loved ones, making them feel cherished and appreciated.
#5 Long-Distance Friendship Lamps
Friendship lamps are an innovative way to stay connected with your loved ones, no matter where they are. These touch-sensitive lamps are connected via Wi-Fi, and when one person touches their lamp, the other lamp will light up in a matching color, sending a subtle message of love and support.
Friendship lamps come in various styles and colors, so you can find the perfect design to match your loved one's decor. It's truly one of the most unique and thoughtful gifts for long-distance friends and family.
#6 Thinking of You Notes for a Month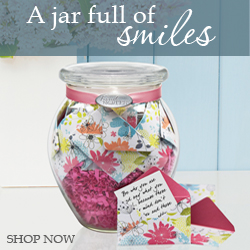 KindNotes is one of the most thoughtful keepsakes you can gift someone. Crafted with love, each beautiful glass jar is filled with 31 unique messages enclosed in decorative miniature envelopes for the recipient to open each day or anytime they need a pick-me-up. The idea is to duplicate the charm of opening an old-fashioned letter and have the recipient experience the joy and warmth of each note read.
Customizable, givers get to decide every aspect of KindNotes, from the envelopes' design right down to the messages on each note. You can even choose from our collection of pre-made designs already put together for you. Combine them with our collection of carefully-curated inspirational messages, love quotes, positive thoughts, birthday wishes, or opt for blank papers to write your own notes on. You can even send us the messages you want and we can handwrite them on the notes for you!
#7 Smart Picture Frames
Smart picture frames allow you to instantly share photos with your loved ones, even when you're miles apart. Simply upload your favorite moments to the frame, and they'll be displayed for your loved one to enjoy. It's a modern way to keep your memories alive. Choose a frame with a sleek design and user-friendly interface, and consider features like cloud storage and automatic photo updates for added convenience.
#8 Online Classes
Help your loved one pursue their passion or learn a new skill with an online class. From cooking to photography, there's something for everyone. Plus, it's a gift that keeps giving as they continue developing their talents.
You can find classes on various platforms, such as MasterClass or Skillshare, offering a wide range of topics taught by industry experts. Encourage your loved one to share their progress with you so that you can celebrate their achievements together, despite the distance.
#9 Virtual Movie Nights
Set up a virtual movie night and spend quality time together, even when you're far apart. Gift them a subscription to a streaming service like Netflix, Hulu, or HBO Max, or send them a movie you can watch together over a video call. It's a simple yet meaningful way to bond.
To make the experience even more special, consider sending a cozy blanket, gourmet popcorn, or snacks gift basket that you both can enjoy during the movie. This thoughtful gesture will create lasting memories, bridging the gap between you and your loved one.
The Bottom Line
Long-distance relationships can be challenging, but you can keep the connection strong with a bit of creativity. Whether it's a personalized present, a tech-savvy gadget, or an experience-based gift, thoughtful gestures go a long way in nurturing your bond with your loved ones.
So, don't let distance get in the way of celebrating the special people in your life. Explore these unique ideas for gifts for long-distance friends and family and choose the perfect present to show your long-distance friends and family just how much they mean to you.