Choosing going away gifts for friends can be a challenge.
Saying goodbye is difficult even though you know that you can always stay in touch by phone, email, and texting.
Years ago, when friends and relatives left home to go to a new life in a different part of the country or world usually meant good-bye forever.  There was usually sporadic or even no mail delivery.  Phones and emails weren't even dreamed of.  Fortunately, that is no longer the case.
Even though they are moving away, a gift is no longer a "goodbye forever" gift but is simply a way to show that you care and will miss them.
You want to select a gift that will be meaningful and useful to them, whether it is something sentimental, practical, or fun.  With so many options available to choose from, it's important to take the time to consider what your friend would like and even what would make them smile.
In this article, I will be sharing some ideas for going away gifts for friends that will make them feel loved and appreciated.
Factors to Consider When Choosing a Gift
Your Friend's Personality and Interests
Think about their hobbies, favorite sports teams, music preferences, and other things that they are interested in.  For example, if your friend is a foodie, you could give them a cookbook with easy recipes for busy weeknights or a gift card to a restaurant at their new location.
The Reason for Moving
The occasion for moving is another factor to consider.  Is your friend moving for a new job, going to college, or traveling the world?  The occasion can help you choose an appropriate gift.  If moving for a new job, you can choose something that they can use in their new position such as a personalized business card holder.  If moving to a new city or country, travel related gifts such as a guidebook or travel-sized toiletry kit or a portable charger may be the perfect choice.
What is Your Budget?
How much you have to spend on a gift is always an important factor to consider when selecting a going away gift.  You don't have to spend a lot of money to give a meaningful or even sentimental gift.   A framed photo of the two of you or a scrapbook or memory box filled with mementos from your time together can mean the world to them.  Or how about creating a custom playlist of your favorite songs together.
Ideas for Going Away Gifts for Friends
When my husband was in the U.S. Forest Service, we transferred from place to place.  Even though we looked forward to new places with new environments and new friends, leaving friends behind was always difficult.  As a result, I know how important it is to receive a thoughtful going away gift from friends.  Some were gifts that were used and enjoyed — such as food and gift cards.  Others were things that I still have and cherish many years later.
Gift Baskets Are a Timeless Classic
Sometimes, you may not have the time or the energy to spend on designing going away gifts.
In that case, there's always the option of sending them a gift basket as a housewarming gift in their new home.  It is a gift that shows you care, but you don't have to spend a fortune on.  Another gift basket idea that would be very much appreciated, if the friend is female, is a bath or spa gift basket to help her relax and feel loved.
Small Personalized Going Away Gifts
At the end of the day, it doesn't matter how much money you spend on your gift.  When it comes to gifts for friends, the most important thing is how much they end up liking it. That's why we always vote for a personal touch, especially between old friends.
For instance, why not give them personalized mugs with a motivational message. Or even better, an inside joke that's going to remind them of you for years to come!  On the other hand, when they get the key to their new place, you can always give them a personalized keychain with an inscription of your choosing. If they have a garden or even a patio or
outdoor deck, personalized wind chimes will remind them of you each time they hear them chime.
Nothing will showcase your eternal love toward your friend like a sweet, well-thought-out personalized going away gift.
Interesting Cakes
If your friends, who are moving away, have something of a sweet-tooth, there's nothing better than surprising them with a treat that they can't try often. For instance — a tropical bundt cake! And this isn't some store-bought mass-produced nonsense.  These cakes are made and shipped by a bakery specializing in tropical cakes. This Florida Keys establishment ships cakes all over the country.  Bear in mind that these don't last forever, so you have to time your order correctly. However, these cakes are not quick to spoil either. The bakers claim they can last a month outside of a refrigerator or six weeks within.
A Gift for Their New Home
Gifts for the home may not sound very personal but they can indeed be.  A bamboo cutting board imprinted with "Bless Our Home" and the person or family's name will make them smile whenever they use it.
An acrylic heart with a silver edged clock a with quartz movement imprinted with a friendship poem and your personal message is truly a unique gift that will bring tears to their eyes.
Or even a personalized door mat for the front door of their new home.
Plants, Succulents, or Bonsai for the New Home
Depending on the circumstances and location of their new home, sending them a plant, a succulent garden in a dish, or even a bonsai tree will make their new abode seem more like home.
You can always order these from greenhouses or florists in their local area to be delivered to them after they are moved in and settled.  Or they can also be ordered online.  There are a number of bonsai trees to choose from online at Bonsai Boy of New York  They even have a variety of artificial bonsai plants if your friend doesn't have a green thumb or the time to take care of a plant but would appreciate the beauty of one.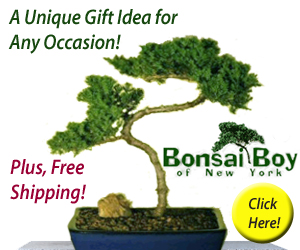 When your friends move into a new home, they don't always feel like they belong there right away. That's why unique and neat going away gifts can help put them at ease.
So whether your friend is moving across town or somewhere else in the world, let him or her know how much you care for them and are going to miss them with a uniquely different but very special gift.