I've discovered a unique gift idea that you might want to check out.  KindNotes makes it easy to send a smile to anyone each day. It is a unique gift idea that is suitable for any occasion and can be as a romantic gift, inspirational gift, get well gift,  birthday gift, anniversary gift and more. These messages in a jar will brighten the days of a friend, husband, wife, boyfriend, girlfriend, mom and anyone on your list.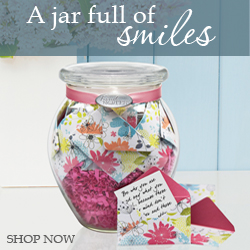 KindNotes® feature jars of 31 handcrafted messages, enclosed in mini decorative envelopes for the recipient to open daily, or anytime they need a little pick-me-up.
You can choose from their vast collection of messages or choose your own.  Here are some ideas of how you can use them to create a memorable gift for that special someone.
Create coupons and favors (i.e. Good for one dinner and movie night, Good for a girls night out)
Personalize with inspirational things the recipient should do that day (i.e. take a walk in the garden, visit the spa, do an act of kindness)
Personalize with reasons why you love or admire the recipient (i.e I love you because… or I love it when… or I like that…)
Personalize with tips and ideas for new brides/grooms or new moms/dads; even sales tips, health & wellness tips and facts, etc
Use as a gift to stay connected in long distance relationships (boyfriend – girlfriend, husband – wife, especially for military families, grandparents – grandchildren, mother – daughter, etc.
Use as a group gift for each person to write a note; great for bosses, birthdays and going away events
Use as a pick-me-up for employees instead of a candy jar, or even better, mix with both KindNotes and candy
Use each note as a piece of the puzzle for a treasure hunt
Use at special events where guests would write a wish instead of signing a guestbook
Use to facilitate discussions with a topic or question in each envelope (at a wedding/baby shower, a fun family gathering or even in a classroom setting)
Use as a family project for your children to write kind notes to their grandparents or uncles and aunts
Use as a daily reminder to challenge yourself to do something out of the ordinary or to do an act of kindness
Use as a gift for your guests to enjoy; leave the jar open with a few envelopes scattered in the guest room table
USES FOR INDIVIDUAL ENVELOPES/PAPERS (can be purchased without the jar)
Practice RAOK (Random Acts of Kindness) and make others smile by placing them randomly at coffee tables or restaurants for the next person to pick up (the decorative envelope will make the recipient curious to see what's inside)
Place KindNotes inside children's lunch boxes or backpacks for a great boost in self-esteem
Pass one to a stranger behind you in line at the grocery store or to someone you think might be having a tough day
Place a sweet message on the pillow or even in a shoe of a loved one
Use as a classroom project or with your children to encourage kindness. Teach them the power of a written letter/note in this world full of technology and and the impact words have on others.